What is now known as Howe Community Resource Center started out in 1996 as a small parent resource room at Howe School. Realizing that the space was limited and having bigger visions, stakeholders began looking for a permanent building.
In 2000, 526 S. Monroe Ave (a former AAA) was purchased and remodeled through the hard work and generosity of many in the community.
Ribbon Cutting after Renovation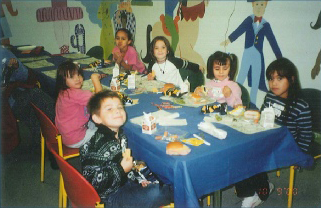 Oral Health Partnership was created, and in 2007, a state of the art, 3-chair dental clinic was added to provide full service dental care to underinsured or uninsured children.
In 2009, we became a gateway agency for The Community Partnership for Children, thus beginning the parenting program.
In 2016, we celebrated 20 years!! We enjoyed a community celebration to remember this momentous milestone!
In 2017, we were honored to have two award winners at our agency. Samantha Prust was awarded with the Home Visitor of the Year award at the Fullfilling the Promise conference. Samantha was recognized for her dedication to her families. Shortly after, Amanda Johnson was recognized as National Parent Educator of the Year at the National Parents as Teachers Conference in Philadelphia.